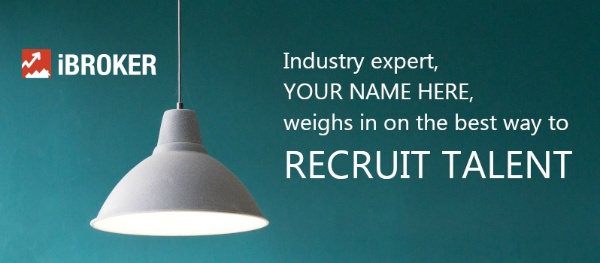 Are you a pro when it comes to recruiting talent? Do you have creative or innovative ways to attract talent and wonder why others are not doing the same? Are you willing to share your expertise with others? We're creating an eBook on recruitment strategies and seeking insight from industry experts. Help us shed light on the best strategies out there. At iBroker, we understand the ongoing challenge to recruit and retain talent and are committed to offering Brokers solutions through innovative technology and insight.

We'd love to showcase your expertise and share recruitment methods that have brought you success.

Interested? We have just
one question
for you to answer:
What has proven to be THE most effective recruitment tactic you've used that didn't break the bank?
Your answer may be published in our "Leaders Weigh-In" eBook, on goibroker.com and/or on our social channels, offering expert insight to those looking to improve their talent acquisition practices.



Know of another recruitment expert who would have something to share? Please feel free to forward this post.
Leading back office management software, iBroker, has recently added a powerful Agent Recruitment Module to help busy Brokers and Office Administrators manage their recruitment process and keep track of hiring efforts. In this easy-to-use application, you can:

Create and edit prospect profiles

Manage appointments

Manage interview schedules

Manage job offers

Track candidate follow-up

Designed to simplify office administration, this new recruitment module is a natural extension to the iBroker application. Learn more at goibroker.com

For more information on iBroker, view this video,
request a demo
or visit
goibroker.com
.