The National Association of REALTORS®* recently surveyed its members about the current technology landscape in the real estate industry. The published results offer Brokers some valuable insights into technology trends, needs, wants and perceptions they may want to consider when planning out their strategies and technology spend for 2019.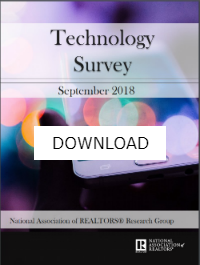 We've sifted through the 28 page document to highlight those findings which may be of particular interest to Brokers. These highlights include:
51

percent of respondents described the technology provided by their broker as being somewhat easy to use, while

39

percent said the technology provided was very easy to use.

35

percent of respondents were somewhat satisfied, and

29

percent

were completely satisfied with the level of technology provided by their

Broker.

Respondents most wanted to see predictive analytics (36 percent), CRM tools (35 percent), and transaction management software (25 percent) provided by their broker.
45

percent of respondents said that the price their broker charges

for technology fees is reasonable.

39 percent of respondents are charged a monthly technology fee by their broker, while 18 percent have a percentage of their commission split for

technology products and services.

21

percent of respondents said that there are technology tools not provided by their

broker, that they wish their broker would provide.

*In March 2018, NAR invited a random sample of 48,869 active REALTORS® to fill out an online survey. A total of 2,525 useable responses were received for an overall response rate of 5.2 percent. The primary functions of survey respondents were sales agents at 62 percent, followed by broker-owners and associate brokers, both at 15 percent. Respondents have been active as real estate professionals for a median of 12 years. For full report and details, visit https://www.nar.realtor/reports/realtor-technology-survey
Did you know...

iBroker is integrated with industry leading software, including QuickBooks Online, dotloop, SkySlope, DocuSign Transaction Rooms, iFranchise and The Profit Centre, to help simplify and streamline real estate office administration.
Note: All product names, logos and brands are property of their respective owners.
Subscribe to the iBroker Blog to learn more or visit goibroker.com.