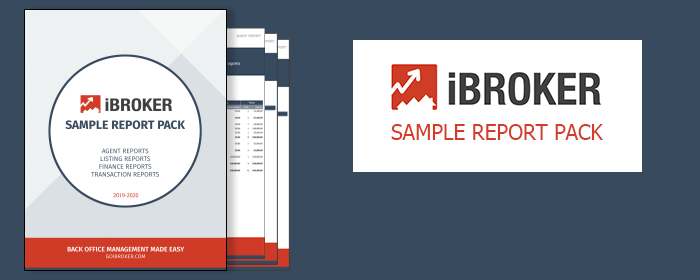 Business Insights to Manage & Grow Your Business
As the simplified office administration solution for real estate, iBroker offers brokers a refreshingly easy way to manage business financials and operations. iBroker's report options have been carefully selected based on Broker demand and business value. With valuable Broker input, we've simplified the reporting module in favour of quality and ease-of-use over quantity and complexity. With iBroker, you get the reports you need to effectively manage operations and provide the necessary insights to improve productivity and profitability, i.e. know your brokerage's breakeven point and your most and least profitable agents. iBroker reports also simplify office administrative tasks and help control the financial operations of your agents.
Download a Sample Report Pack of our most popular reports or contact us to schedule a free live demonstration. We welcome the chance to discuss how iBroker can help your business grow.
Give us just a few minutes and let us show you how iBroker can help you better manage your office finances.