dotloop Integration
Streamlining real estate transaction management
iBroker is the simplified office management solution for real estate. By integrating with best-in-class service providers, iBroker helps its customers be more productive and better manage day-to-day tasks. Increasing connectivity across applications facilitates a greater degree of automation within the office, enabling more time for growth-supporting initiatives. Contact us to learn how iBroker can help your business succeed.
The Benefits
Dotloop provides a single end-to-end solution for real estate brokers and agents to more efficiently complete, share, and sign documents, as well as monitor and manage the entire real estate transaction process. With this integration, iBroker users can access real estate transactions based in dotloop through a single click, improving workflow efficiency between the applications and eliminating the need to double enter transaction data into both platforms. Together, iBroker and dotloop offer real estate brokerages an easier, more streamlined approach to managing their back office and financial needs.
"Our companies are giving customers the tools they need to be successful, while making it extremely easy to work between applications," said Carlos Matias, CEO of GryphTech and creator of iBroker, "We will continue working with industry leaders, such as dotloop, to ensure our customers experience the most efficient and effective solution in the industry."

---

"We're excited to partner on this new integration that makes it faster and easier for dotloop users to input and manage their transactions through iBroker," said Austin Allison, Founder and General Manager of dotloop,"This integration represents our ongoing efforts to provide real estate brokerages and agents with tools that improve the productivity, efficiency and accuracy of their transactions, with the ultimate goal of helping them get deals done."
Set Up Instructions & How It Works
Download the iBroker Set up Instructions here (.PDF). Have questions or want a demonstration? Contact us.
About dotloop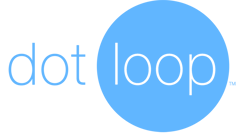 Dotloop is the leading online transaction and productivity optimization platform in real estate. Dotloop reduces complexity by replacing separate form creation, e-sign, and transaction management systems with a single end-to-end solution and drives growth by helping real estate professionals streamline their businesses with workflow automation and real-time visibility into transactions. Each year, millions of agents, brokers, and clients trust dotloop to get deals done. Visit www.dotloop.com