QuickBooks Online Integration
Leveraging the gold-standard in business accounting software
iBroker is the simplified office management solution for real estate. By integrating with best-in-class service providers, iBroker helps its customers be more productive and better manage day-to-day tasks. Increasing connectivity across applications facilitates a greater degree of automation within the office.
The Benefits
The integration of QuickBooks Online with iBroker, allows iBroker to leverage the gold-standard in business accounting software. Together, iBroker customers enjoy a powerful end-to-end solution for office administration and financial management.
The integration makes the transition to iBroker easy for those already using QuickBooks Online, as it allows Brokers to run the financial reports they are used to, while using data that has already been collected through iBroker. In QuickBooks Online, users will access familiar financial reports like Profit & Loss and Aging, and be able to calculate their profitability and balance books. In iBroker, users can generate a variety of valuable real estate reports to help inform business decisions, i.e. Agent Commission History, Agent Ranking, etc.
The integration also allows for a quick implementation period and a sigh of relief from Accountants who are already using QuickBooks Online and don't have to learn a whole new system.

Don't have QuickBooks Online?

Talk with us!
iBroker customers receive a 30% discount off the listed retail monthly fee of QuickBooks Online.
Plus, receive an additional 10% discount (40% discount total) if willing to pay annually.

How to Set Up the Integration
It takes just 2 simple steps to set up the integration:
Within iBroker, simply click 'Connect to QuickBooks'. This logs the user into their QuickBooks Online account.

Within QuickBooks Online, click 'Authorize' in order to complete the integration.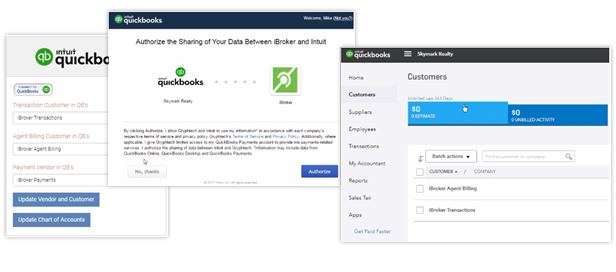 How it Works
Once the end user completes the integration set up process, iBroker will immediately create two Customers and one Payment Vendor ('Supplier' in Canadian version) in their QuickBooks Online account. The Customers represent the two revenue streams for brokers, namely Transactions and Agent Billing, while the Payment Vendor represents an expense for brokers (Payments to agents, referrals etc).
Here is a diagram depicting the basic flow of data between iBroker and QuickBooks Online: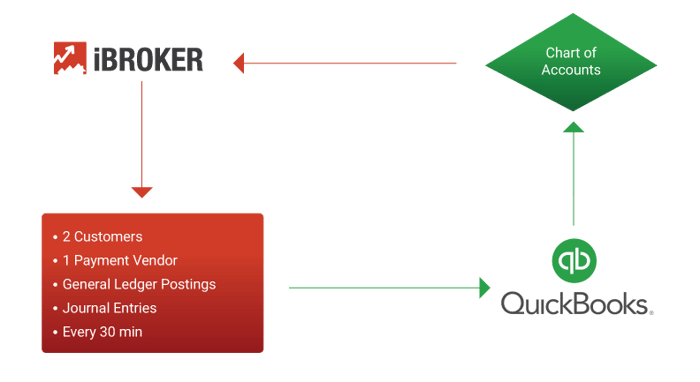 The Chart of Accounts set up in QuickBooks Online will display in the applicable drop down lists within iBroker. The end user must then map their general ledger accounts to various items, such as transaction types and agent billing items, etc. Depending on how the end user has mapped the accounts, any financial related activity will post summary journal entries in QuickBooks Online within the relevant GL accounts to reflect the activity. The integration is set up to send data from iBroker to QuickBooks Online every 30 minutes.

Note: In the last container, each line represents 2 customers and the payment vendor mentioned above.
Using QuickBooks Desktop Pro?
QuickBooks Desktop Pro users can leverage the 'Journey Entry Export' Report to download transaction accounting information as an .IIF file, which can be uploaded into QuickBooks Desktop. This .IIF file contains batched journal entries created by iBroker.
Questions?
Please contact us.
About QuickBooks Online

QuickBooks simplifies small buisness accounting and bookkeeping tasks by automatically completing them for you, saving you time and reducing errors. Sync QuickBooks to your bank accounts and transactions will be automatically entered for you. QuickBooks performs all necessary calculations for you - it automatically calculates income, cost of goods sold, sales tax collected, and much more. Visit https://quickbooks.intuit.ca